Wat is je relatie met de medium fotografie?
Ik ben dagelijks met fotografie omringt, ik geef praktijk op Luca School of Arts, Sint-Lucas Brussel – afdeling fotografie, waar ikzelf ook mijn master opleiding volgde. Mijn vriend maakt tentoonstellingen waarbij het medium vaak domineert. En mijn kennissenkring is stevig doorspekt met kunstenaars die fotografie gebruiken.
In mijn eigen artistieke praktijk heeft fotografie sinds enkele jaren haar monopolie-positie verloren en moet ze de laatste tijd regelmatig plaats maken voor andere media, zoals video, zeefdrukken, etsen (via digitale lasercut), frottage, installatie…
Mijn werk start meestal vanuit iets feitelijks: een artikel, een biografie, een verhaal, een ontdekking, …. iets dat ik wil delen maar dan vanuit mijn perspectief. In een bepaalde fase ga ik onderzoeken welk medium ideaal voelt in functie van de verhaallijn, soms is dat een fotografische reproductie.
Voorlopig beperk ik me tot media die op hun eigen manier een reproductie maken van een bestaand beeld, van een visueel startpunt of realiteit die dan vervormd/hervormd wordt afhankelijk van het medium. Een frottage bijvoorbeeld is een reproductie van een reliëf. Dat leunt voor mij nog sterk aan bij fotografie.
Welke rol speelt publiceren in uw artistieke praktijk en in het bijzonder in uw werk Errors and Residuals?
Sinds 2018 werk ik o.a. aan een doorlopend reeks kunstenaarspublicaties Errors and Residuals, waarin ik me buig over het archief van Ignace D.K., een voor mij onbekende man. Ignace stierf in 2013, een paar maanden voordat mijn ouders in zijn voormalige huis gingen wonen. Het was er een sanctuarium midden in de bossen. In dit huis ontdekte ik het perfect georganiseerde en georkestreerde universum van Ignace. Hij liet er niets achter zonder reden en hij zorgde ervoor dat, zelfs na zijn dood, de orde niet verstoord zou worden. Ik gebruik het archief als een startpunt voor een onderzoek naar de methodes en strategieën die we hanteren om het leven behapbaar te maken, te controleren.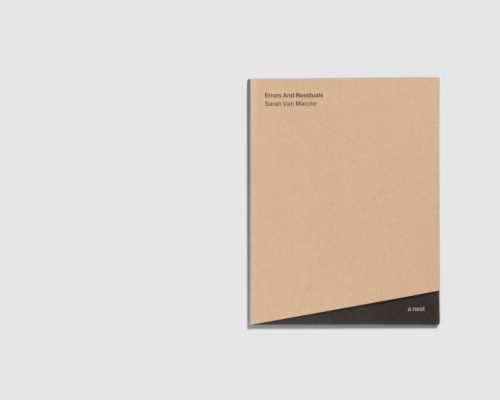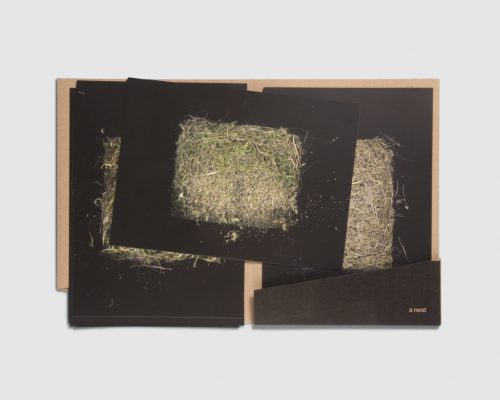 Het werken aan een kunstenaarspublicatie is relatief nieuw voor me. Bijgevolg is het continue een ontdekkingstocht rond papier, druktechniek, vouwen, snijden of afwerken. Ik heb mijn werk tot nu toe meestal gemaakt met een ruimtelijk einddoel voor ogen, een tentoonstellingsvorm. Er sluipt in die werkwijze een soort routine in die ik wilde doorbreken. Vandaar dat het boek als tentoonstellingsformaat als zeer bevrijdend aanvoelt.
Ik ontdek en herdefinieer continue een – voor mij – nieuwe manier van communiceren: het lineaire van een publicatie, het narratieve, haar intrinsieke geschiedenis en eigen grammatica. Het geeft veel vrijheid, maar steeds binnen een afgelijnd en beperkt kader van een omslag. Ik hou van de contradictie dat beperkingen en obstructies van een medium net zo grensverleggend worden.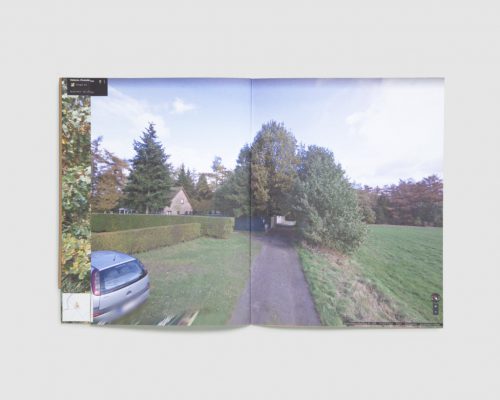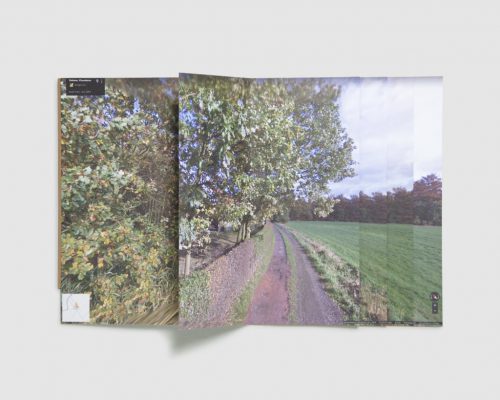 Waar werk je op dit moment aan?
Ik ben geïnteresseerd in het gebruik van eigen gegenereerde methodes & systemen om grip te krijgen op het leven. Hoe we onszelf proberen te beschermen tegen de van nature bestaande wanorde, het oncontroleerbaar verloop van het leven en de grootsheid & chaos van het universum. Als mens hebben we een aangeboren drang om onze omgeving te ontleden, patronen te onthullen, theorieën op te maken om het onbekende, oncontroleerbare beter te definiëren en te trachten te voorspellen. Wetenschap is daar een goed voorbeeld van. En uiteraard ook religie. Het wordt voor mij echt boeiend wanneer mensen al dan niet bewust fictie inzetten in de vorm van bijvoorbeeld rituelen, in het gebruik van beelden (fotografie) & tekst als overlevingsstrategie.
Om met deze thematiek verder te werken, blijf ik nog steeds cirkelen rond het archief van Ignace D.K. als een planeet rond haar zon. Het blijft een boeiende considerans dat soms eens dichtbij is en dan weer veraf.
Sarah van Marcke's website kan je hier bezoeken www.sarahvanmarcke.com
malenki.net features the following publications by Sarah van Marcke