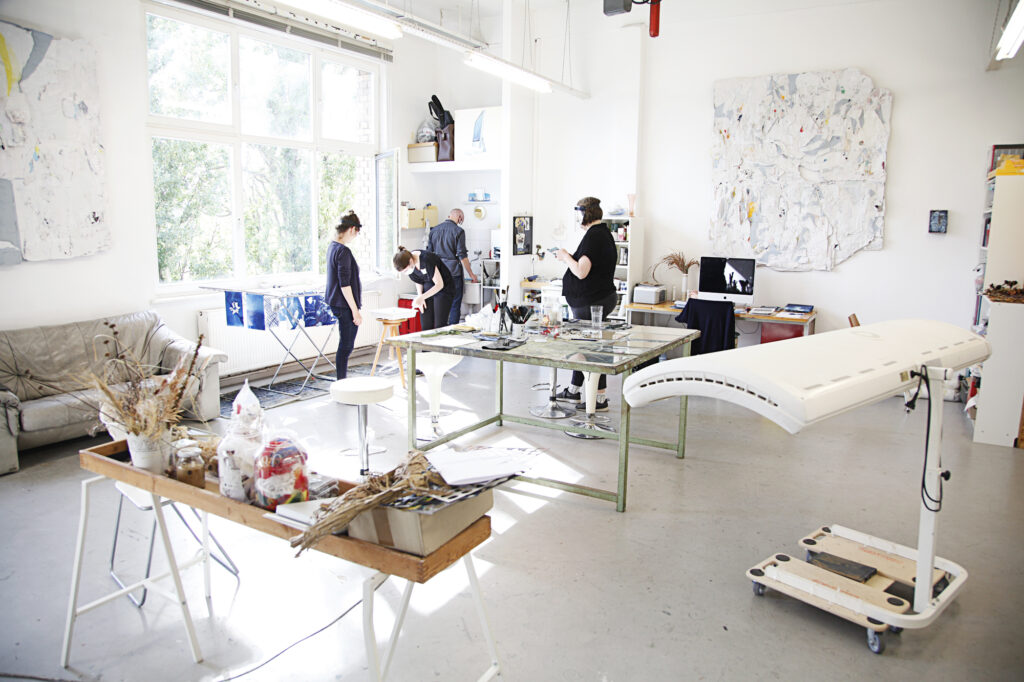 The Blue Pyramide / The Blue Book
workshops on cyanotype and bookbinding
organized by Kirsten Heuschen and Katrin Kamrau
.
.
.
.
.
.
.
.
.
.
.
.
.
.
.
.
.
Tailor-made versions of this workshop for academies, institutions or private groups are possible. If you are interested in a workshop on cyanotype and bookbinding, please reach out to us: malenki@malenki.net
The Blue Pyramide — a one-day crash course
Do you like to experiment with images? Do you like handmade things, the smell of paper, sun and nature? Discover the world of both blueprint (cyanotype) and bookbinding under the guidance of visual artists Kirsten Heuschen and Katrin Kamrau. The work of biologist and illustrator Anna Atkins will inspire us – the heritage-protected industrial complex The Rathenau Halls on the banks of the river Spree is our terrain. We work exclusively with non-toxic materials and you will learn all the necessary basics of these two simple and fascinating techniques. At the end of this one-day crash course, you will have made your unique blue object and you can apply the newly learned techniques independently. No previous knowledge required; suitable for children together with an adult.
The Blue Book — a two-day crash course
Botanist Anna Atkins is credited with having published Photographs of British Algae: Cyanotype Impressions in 1843, the first book illustrated with photographs. This is the starting point of our two-day-workshop, which brings blueprint and bookbinding into the present day.
Blueprinting, also called cyanotype, is a historical photo technique with beautiful cyan shades. In our workshop, you will learn all necessary basics of this simple, non-toxic and fascinating process. We expose photographic templates and objects – it's about playing with light and light-sensitive materials, in short: it's about the essentials of photography. Dare to experiment.
The resulting blueprints will be processed into unique publications using various manual bookbinding techniques such as Leporello, thread stitching, book screws or ring binding. At the end of this workshop, you will have made your unique blue book and you can apply the newly learned techniques independently. No previous knowledge required.
Kirsten Heuschen about herself
I am a visual artist working with experimental photography and Décollage. I studied photography and media at the Bielefeld University of Applied Sciences and received my diploma in 2008.
In 2011 I discovered my fascination for cyanotype and developed my own approach of working with it. Since 2013 I have been leading art courses and workshops for adults, teenagers and children. It makes me happy when I can share my enthusiasm for art and creativity. // www.blauesglueck.berlin
Katrin Kamrau about herself
Photographs and publications accompany me as an artist and mediator. My main focus lies on examining the process of image-making and reception of lens-based images. I studied photography and art at the Bielefeld University of Applied Sciences and KASK (Ghent). As a freelance mediator with a focus on contemporary art, I work for museums, academies and art spaces. In the recent past for M HKA, tique.art, Extra City (Antwerp), Museum M (Leuven), Merz Academie (Stuttgart), Kühlhaus (Görlitz). In 2010 together with Robert Schlotter, I founded malenki.net — an independent initiative for self-publishing within the arts. // www.malenki.net
Corona preventive measures
The minimum distance of 1.5 m is observed. All wear the provided face shield. The transparent face shield is suitable for people wearing glasses and manufactured in accordance with DIN EN 166. If this event has to be cancelled due to Corona preventive measures, your participation fee will be fully refunded.